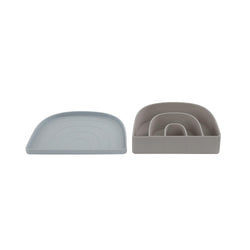 OYOY
Rainbow Plate & Bowl - Dusty Blue/Clay
IN STOCK for immediate shipment.
*Limited quantities may apply.
Our Rainbow Plates are divided into rooms of different sizes. The fine plates have the recognizable rainbow design, which is simple and playful at the same time.

The plates are made of 100% silicone, which is practical and easy to keep clean. They are food approved, dishwasher and microwave safe.

Consists of a set of two pieces.

Color: Dusty Blue/Clay
Quality: 100% Silicone
Dimensions: H0.5 x L8 x W6.7 in / H1.3 x L6.9 x W5.7 in