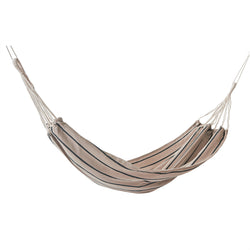 OYOY
Outdoor Kyoto Hammock - Clay
IN STOCK for immediate shipment.
*Limited quantities may apply.
SHIPPING EARLY NOVEMBER 2022
A hammock is absolutely perfect in the garden or on the terrace and brings back childhood memories in most people. The Kyoto Hammock is made of recycled polyester, which is a durable and long-lasting material.

Enjoy the summer in the hammock and cuddle up with our outdoor cushions in the same series.
Product Details
Dimensions:H300 x W120 cm
Material: 100% Recycled Polyester
Finish: Clay