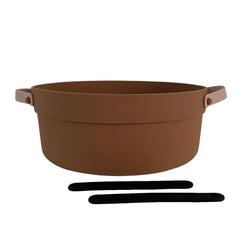 OYOY
Mio Wash Tub - Caramel
IN STOCK for immediate shipment.
*Limited quantities may apply.
Make the dishes a bit more fun with the Mio Wash Tub, which is made of silicone. The wash tub is a practical element in everyday life and has a playful and colorful design. The wash tub has replaceable handles in two different colors which are included. Use the Wash Tub with the Dish Tray and Dish Drainer.

100% Silicone