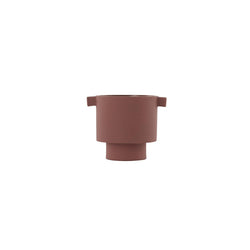 OYOY
Inka Kana Pot - Small - Sienna
IN STOCK for immediate shipment.
*Limited quantities may apply.
Make sure your flowers and plants are presented in the best possible way with the Inka Kana Pot! The Inka Kana Pot with Rose colouring is both simple and minimalistic, but at the same time also modern and unique because of the decorative handles in each side of the pot.
The Inka Kana Pot is handmade and is made of 100% ceramic.
For cleaning it is recommended to wash with water and wipe with a dry cloth – do not use dishwasher.
Materials:
100% Stoneware
Dimensions:
Ø4.1 x H4.1" interior Ø3.5"