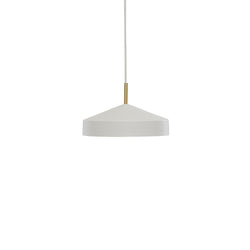 OYOY
Hatto Pendant - Small - White
IN STOCK for immediate shipment.
*Limited quantities may apply.
The Hatto Pendant has a simple and stylish design. The white lamp looks great over the dining table and will with its discreet color fit into any decor. It has a matte finish, beautiful brass details at the top and a fabric cord.

Note that the pendant is delivered without light source.

Color: White
Quality: 100% Metal, Powder Coated
Dimensions: Ø11.8 x H7 in