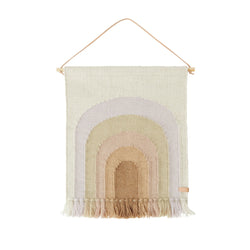 OYOY
Follow The Rainbow Mini Wall Rug - Lavender
IN STOCK for immediate shipment.
*Limited quantities may apply.
The small Follow The Rainbow Wall Rug is hand-woven in bright colors and is designed with fringes at the bottom. The upper part is folded on a stick with a string for hanging. The wall rug is such a charming and colorful wall decoration that everyone in the family will love. The wall rug is available in several color combinations and sizes.
Product Overview
Available Colors: Lavender
Material: 80% Wool - 20% Cotton
Dimensions: 21.65"W x 27.17"H
Ironing: Iron medium
Dry Cleaning: Dryclean using any solvent except trichloroethylene