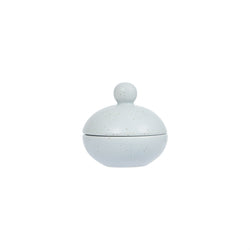 OYOY
Saga Bonbonniere - Low - FlintBlue
IN STOCK for immediate shipment.
*Limited quantities may apply.
The low Saga Bonbonniere in the color FlintBlue is a charming jar with a matching lid. The design is simple and elegant with a sweet detail on top. Hideaway small treasures, sweets, or your jewelry in the bonbonniere. Available in two sizes and several color combinations. The Saga Bonbonniere is made of stoneware and is foodproof.
Product Overview
Available Colors: FlintBlue
Material: 100% Stoneware
Dimensions: 3.15"Ø x 2.83"H