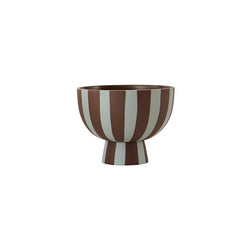 OYOY
Toppu Mini Bowl - Dusty Blue / Choko
IN STOCK for immediate shipment.
*Limited quantities may apply.
The Toppu Mini Bowl is part of the popular Toppu series. The TOPPU series consist of decorative designs in ceramic and is one of our most popular design. TOPPU was first presented in the SS17 collection, and the characteristic stripes have since been further developed into a whole series of unique products, inspired by trends of the time. The bowl is perfect as a decorative element or for storing. Comes in several sizes and color combinations. The series is made of 100% ceramic and is handmade.
Product Overview
Available Colors: Dusty Blue / Choko
Material: 100% Stoneware
Dimensions: 4.96"Ø x 3.94"H